Baccarat (correctly pronounced "BAH-kah-rah") is known to be a high rollers game, often featured in Bond movies where our hero smacks a wad down and takes out the villian. The rules are easy and can be mastered in a few minutes. Online Baccarat is no different, the game translated onto an online platform in a seamless fashion. You lose none of the adventure by playing online and, at the end of the day, the effect is exactly the same. A good run at an online casino will reward you every bit as much as a great run in your favourite casino.
The object of online baccarat is to correctly predict whether the banker's hand or the player's hand will win. Alternatively you can predict a tie
The value of a baccarat hand is determined by adding the values of its individual cards
Tens and face cards count as zero
Other cards count as their numerical value
Only the last digit is used. Therefore, online baccarat hands all have values from 0 – 9
The hand with the higher value wins
If the hands have the same value, the game results in a tie
Initially, both the banker and the player are dealt two cards
If the two initial cards total 8 or 9, the hand is called a "natural", and the game will end at that point
If not a natural, standard Baccarat "third card rules" determine if a hand should receive a third and final card
Winning baccarat bets on the player's hand are paid at 1:1 odds
If you bet on the banker, a 5% commission is charged on winnings, making the net odds on banker bets 0.95 to 1
A winning baccarat wager on a tie bet is paid at 8:1 odds
If the game result in a tie, bets on the banker or player are returned.
There are various software providers to the online casinos. We recommend either Microgaming, Playtech, RTG, or Wagerlogic. These are our recommended casinos where you can play Baccarat.
This is a typical Baccarat view, in this case a small sample from Golden Palace Casino.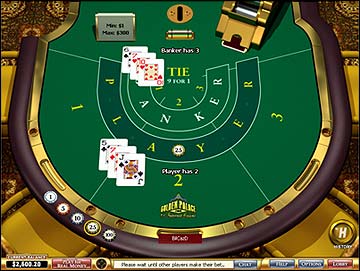 Play Baccarat at these Wagerlogic powered casinos
USD (No players from the USA)
GBP/Euro
InterCasino
InterCasino