The most powerful blackjack hand possible is a hand value of twenty-one in your first two cards. This hand contains an ace and a ten valued card and is known as a "blackjack"
Blackjack strategy differs depending on how many decks are being dealt from. Once you have determined from the software provider how many decks are in use, you can then proceed to use the appropriate strategy. By strategy we mean that there are logical choices. A good example would be the choice to stand if you have a ten and an eight. The odds are good that your next card would send you way over the target total of twenty one. If that happens your hand is bust and you are the proud owner of a losing hand.
With a single deck, you have a slightly different strategy to a game where multiple decks are used. You will also pay attention to the rules that apply to the bank. The norm is that the bank would have to take a card until a total of seventeen or better is achieved. We have prepared a single deck blackjack strategy guide for you as well as a multiple deck blackjack strategy guide.
The Card Values
The cards two through ten have a numerical value equal to the number printed on the card. All face cards (Jack, Queen and King) as well as Tens have the value of ten. Aces may be counted as either eleven or one. In the game of blackjack, card suits have no value. Always count the ace as eleven until a count of eleven will put your hand over twenty-one, then count the ace as one.
Soft and Hard Hands
When you have an ace in your hand that counts as eleven, you have what is known as a "soft hand". If you hold no aces or have an ace in your hand that can only count as one, you have a "hard hand". Think of an ace in your hand as flexible or "soft" because the hand value can always be reduced. Whenever you have a soft hand, you hold a distinct advantage over the dealer. This is because you can never bust when you hit a soft hand.
Bets and the Deal
Minimum bets are usually $1.00 up to $100.00. Maximum bets are generally as high as $5,000.00, but they can be higher through special arrangements with the house. At the start of each hand, the player places his bet in the square on the table or on a number of squares if playing multihand blackjack. The dealer always deals his own cards face down. After the dealer has dealt the player two cards, he will turn his first card face up. The face down card is referred to as his "hole card". After the player has played out his hand, the dealer will turn his hole card face up and, if necessary, hit his hand until he has a hand value of seventeen or more.
Blackjack Game Rules
Note that there are variations to the game. This is a basic blackjack game that we are talking about. If the first two cards dealt to you are cards of equal value, you may "split" the pair combination. All face cards and Tens are cards of equal value. When you split you play two individual hands. The right most hand is played out first. Any ace drawn to a split ten is not a blackjack. The dealer will need a blackjack to beat any hand of twenty-one. You may "double" on a hand which consists of two cards. You double your original wager. When you double down, you are dealt only one additional card to your hand. Doubling your wager whenever a favorable situation arises adds to your advantage.
Insurance
Insurance is another form of wager that is offered when the dealer has an ace showing. Those who take insurance are betting that the dealer has a blackjack. Insurance costs one-half your original wager, and the payoff, should the dealer have a blackjack, is two-to-one. Whenever you win the insurance bet, the dealer will pay you by leaving your original wager on the table.
Blackjack Software
There are various software providers to the online casinos. We recommend either Microgaming, Playtech, RTG, or Wagerlogic. These are our recommended casinos where you can play Baccarat.
A typical Blackjack view, in this case Playtech software as seen at Golden Palace Casino.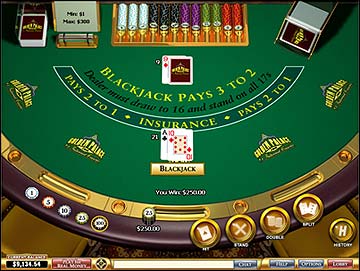 Play Blackjack at these Wagerlogic powered casinos
USD (No players from the USA)
GBP/Euro
InterCasino
InterCasino