Slots are amongst the most popular of online casino games. The slot machine (sometimes called Fruit Machines in the UK and Pokies in Australia) was initially meant as some entertainment for the ladies while the big boys went and played their own table games. It did not take the casinos long to notice that the slot machine was proving to be the most popular of all their games. Why is that you wonder? It is because they are fast, filled with fun themes, and have features that can pay out extremely well. They are not there to guarantee a win, they are generally high variance which means your big win is subsidized by a load of other people losing. The anticipation of a big win, that is what keeps us going going back. Hope is something that we all have.
The different types of slot machines
3 reel, 1 line Slots. You spin until you get 3 winning symbols in alignment. The payout is set out in a table on the machine.
3 reel, 3 line Slots. Your coins purchase you extra lines, i.e. the top and bottom line thus giving you 3 chances at winning.
3 reel, 5 line Slots. Horizontal lines plus corner to corner lines increase your chances further yet.

There are Bonus Slots amongst these games where you get to play a bonus round if you hit a specific pay reel. Keeps you interested that is for sure.

5 or more reel Slots. With these, you tend to find larger variations of "lines" with zigzag like patterns also giving a return.

You get the original 5 reel video slots with 9 paylines. These don't feature bonus rounds although they do bring new payouts to the table like scatters.
The newer 9 payline or better 5 reel video slots have bonus rounds, free spins, and scatters. These games are often themed around movies and so forth.
Progressive Slots
A network of machines are connected and all contribute to the Jackpot prize. These are the "million payout" machines like Mega Moolah (brought to you by Microgaming).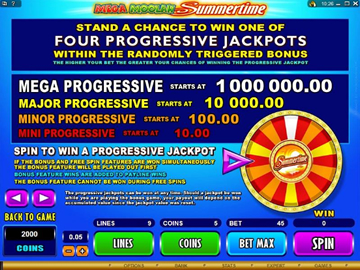 Slots in general, but in particular video slots, reward the player who plays maximum coins. You get to participate in the bonuses on offer. It pays to rather play for a lower denomination for maximum coins than to play the larger denomination for fewer coins. Obviously too, if two slot machine games have the same slot style but one jackpot is paying more than the other, play for the bigger jackpot!
Slots Strategy
When it comes to slots the only strategy is to manage your bankroll. If you want to play for a few hours, don't go in with huge bets up front. The chances are that you will wipe out in a hurry and then have to either add more money to your account or forfeit play for the rest of the day. It is fairly easy to work out what you should bet though. The main rule is that the biggest payout is usually attached to the maximum bet. Choosing 5 paylines on a 9 payline machine is great until you miss the chance of winning the biggest payout. Remember what we said earlier? The big wins are subsidized by the losses. Do you really only want to subsidise the but winners? The next step is to understand that your machine might say it has a 96% payout but that percentage is affected quite heavily by a few big jackpot winners. Work on something like 90% or even 85%. Now you do simple mathematics. Every hundred bets you place should see you end up with 85% of your bankroll left. Keep the mathematics. going and you will see the following:
Example – You have 100 credits
100 bets and you are left with 85 credits
100 more bets leaves you with 70 credits
100 more bets leaves you with 55 credits
100 more bets leaves you with 40 credits
100 more bets leaves you with 25 credits
100 more bets leaves you with 10 credits
Your bankroll is pretty much shot
You might thus squeeze 650 bets out of your credits, maybe more if you are lucky. Frankly though, you probably hit spin at least 5 times a minute. That means 135 minutes or a little over two hours. That is calculated at 1 credit per bet!
Slots Tip
The casinos continually release new online slots that are great fun to play!
Slots Software
There are various software providers to the online casinos. We recommend either Microgaming, Playtech, RTG, or Wagerlogic. These are our recommended casinos where you can play Slots.
A typical Slots view, in this case Playtech software as seen at Golden Palace Casino